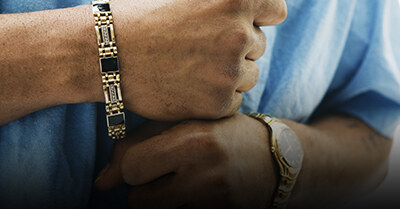 Men's Bracelet You Should Own Today!
Bracelets aren't just for girls, they are for boys too. Yes, for men like you. Take a look for those man who are accessorizing their wrist, it leaves an impression of masculinity and stylishness. These bracelets can enhance personal style and brings out the look you wanted, whatever it may be. It doesn't matter whether you have a tight budget when it comes to jewelries, whatever your style, a wide range of bracelets got you covered.
Bracelets for men come in different types. Aren't sure where to start? Don't worry, this few tips will help you out choose the best bracelet; whether bracelets encased with 18k gold and titanium, or those casual like leather and gold inlay with carbon fiber, there's lots of gift for Father's Day!
Choose Men's Bracelets in Malaysia
Just like how clothing affects the overall look of an individual, Men bracelets are another way to touch up and "top off" the style. One good example of men's bracelet is gold. Wearing a gold bracelet together with formal suit such as blazer's sleeve can or fitted shirt can pave a way for a more attractive and good-looking features. They can be a good alternate for a watch. Although, men's bracelet comes from different metals, still gold is the most popular element. Gold has an innate value specifically sentimental value and once it is given as gift, a gold bracelet resembles an enduring love for it does fade easily. There are more men's bracelets in the market; feel free to choose which of them suits you best.

Leather Bracelets

Features: Offered in different colors, band is made from rubber or leather, mostly with stainless steel
Design: Come in plain and printed leather or embossed with interesting designs
Use: Leather bracelet never goes out of style. It is one of the longest trends in the world of bracelet
Gold Plated Bracelet

Features: Available in 24 karats, 22, 18, 14 and 10 karats
Styles: Most popular gold bracelets are chain and links. Chain samples are cable, rope, byzantine and wheat. Link gold bracelet is gold watchband and ID bracelets
Use: This type of bracelet can be a great anchor piece, sentimental gift and/or everyday necessity
Silver Plated Bracelet

Features: Purely made from silver yet less precious than gold stone. Less expensive, more stronger and does not tarnish easily
Styles: Designs can choose from are sterling beaded bracelet, cuff, charm, medallion, chain, and multi-stranded silver. This differ in shapes
Use: Ideal for casual and formal attire. A lovely addition to any jewelry collection